Design lead · Strategist



Aligned with Artsy's mission to make art more accessible, we long wanted to create a comprehensive show guide that would inspire people to visit galleries and museums. In 2016, BMW approached Artsy in search of a partnership opportunity that would allow them to further their position as the dominate automotive brand of the art world. BMW asked Artsy to develop a series of potential projects for a partnership opportunity, one of these, was a show guide, enabling Artsy users to discover art in major cities around the world. I was tasked with developing early concepts that would be pitched to BMW in order to secure our partnership.



Version 01: Art Guide


Based on the shared goals of BMW and Artsy I developed an initial vision for what the experience might look like. The initial pitch constituted creating an entirely new app that would be sponsored by BMW, which included 3 core experiences: Nearby, helping people find ongoing exhibitions at museums and galleries. Destinations, unique art locations a 'drive away' from a users current location, highlighting destinations that have been curated by BMW. For You, recommending ongoing and upcoming exhibitions based on a users interests including the artists, categories, and institutions they follow.


Version 02: On View


After receiving feedback from our initial pitch and reevaluating our internal goals, we opted to change course and pitch incorporating the show guide experience into the existing Artsy iOS app. This involved a few important trade offs, for a more subtle brand presence in the app we could give BMW exposure to an immediate and rapidly growing commercial audience. I adjusted the experience accordingly, containing the entire experience under a new section to be introduced into the existing app, On View. This included: Spotlight, highlighting the most exciting art world events globally, as way of inspiring people even if they may not necessarily make it to the event in person. Discover, giving users the opportunity to self select one of the major launch cities or browse inspiring art destinations curated by BMW. Your Shows, akin to the previous For You of the first iteration, personalized recommendations based on the user's interests.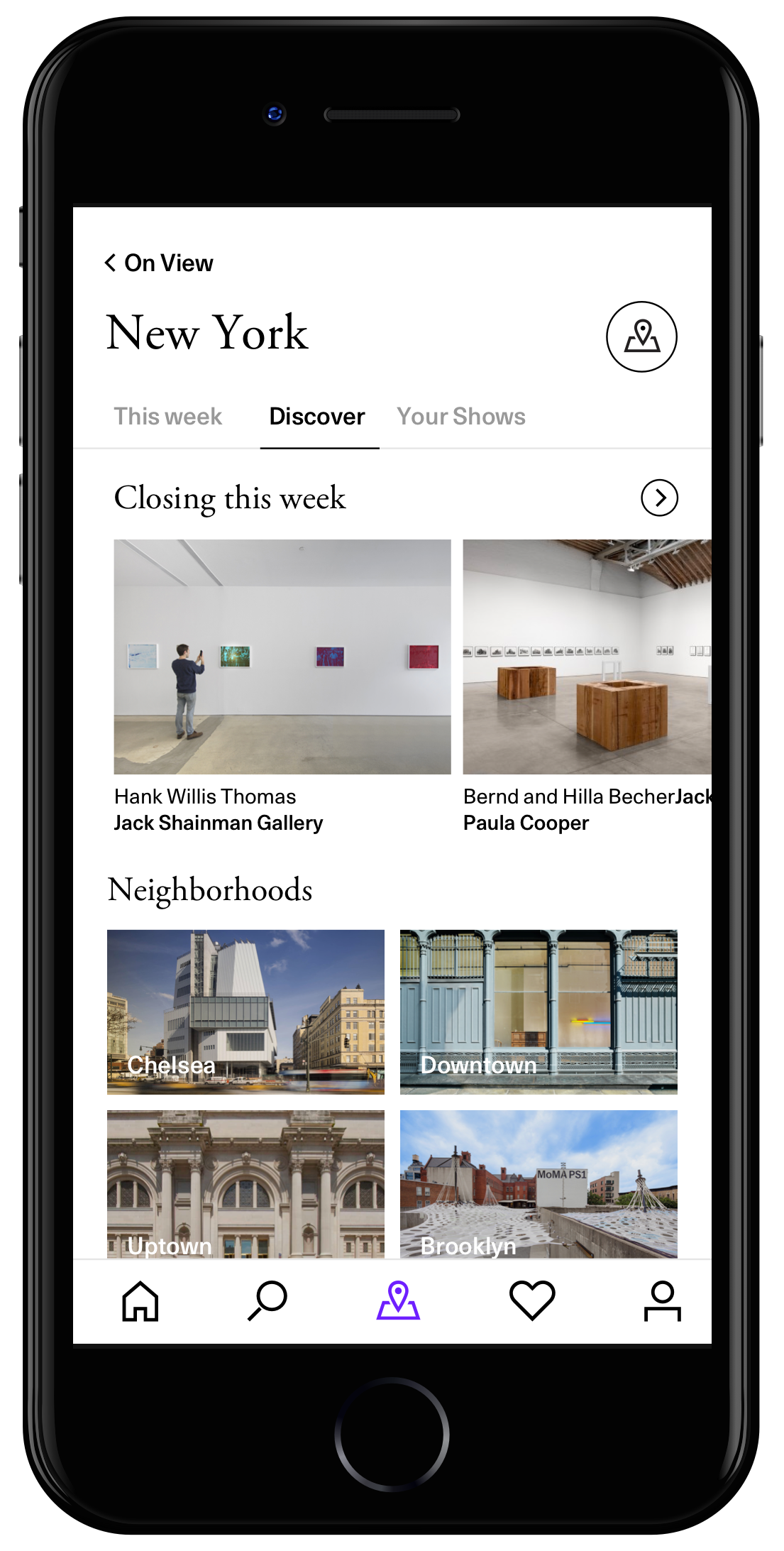 Exploration of how On View could extend to artsy.net